ORDER YOUR GRANITE TILES FROM GRANITE SETTS UK
great designs and countless applications
We can supply granite tiles as follows:
Granite Tiles generally come with width 300-400mm and lengths 300-800mm, but we can accommodate requests for some irregular tile sizes. Should you require such a tile please do contact us on 0800 246 1212 or sales@granitesettsuk.co.uk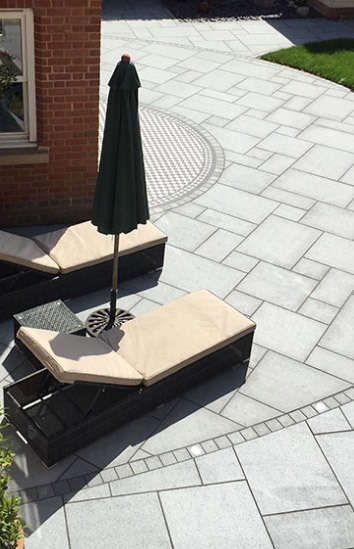 Granite tiles offer a number of pleasing applications and many possibilities for contemporary design features.
We can deliver our granite tiles across the entirety of the UK
Granite tiles are also naturally suited for the UK's typical climate, especially during the coldest months, they are resistant to both frost and water damage. They are not just practical too of course – whatever application you put them to, you'll create something that is stunning to behold. Granite tiles are the ideal choice when it comes to driveways, paths and patios.
At Granite Setts UK we can offer you a range of tiles in all manner of styles and colours. They offer you a luxury finish – the perfect finishing aspect to your traditional or modern-looking setting. With a tight grain yet even texture, tiles can add a subtle shine to your design applications. You can create something with style and that's ultra-modern, thanks to the material's tight grain and smooth texture.
The tiles we can supply for you are ideal for all manner of designs – just let your imagination run free! Whether internally or externally, you can create anything from the subtle and minimalist to big, bold and brassy. Combine the different colours that are available to create something that's truly unique.
Granite tiles are practical too. The hardness of granite makes them easy to maintain, and they are versatile enough for a number of applications, from public high-traffic areas to private gardens.
For discounts on larger loads, please call for more information
For more information about setts, please call us here at Granite Setts UK on 0800 246 1212 or by email at sales@granitesettsuk.co.uk.