Granite Setts UK can supply you with the granite materials for head
turning external paving
We can supply granite setts in the
following colours and finishes:
We have a vast range of granite setts available, to request a price please can you complete the form below and we will contact you within 24 working hours.
Top finished, bottom sawn, rest natural split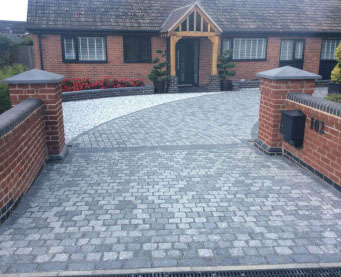 The granite setts that we provide come with a either a natural or textured finish, and are sourced ethically from our quarry in Portugal. Our materials are guaranteed to leave you with a great-looking driveway, pavement, road or external paving that will really stand the test of time.
Granite setts are a quarried stone that were traditionally used for paving roads. They are now a popular choice for a number of different applications, including driveways, paving, path edging and for many aspects of landscape architecture.
Our granite setts will enable you to capture the traditional charm of granite, and to bring a little bit of history to your home or commercial property. Granite Setts UK can help you achieve something that looks traditional but that is resistant enough to bear the pressure of modern traffic.
What size should you choose?
Our most popular range size of granite sett for a residential project is the 100x100x50mm these are used in over 90% of applications and, due to the volume of production; they are also the most cost effective option. For projects which include heavy traffic, such as roadways, then the 100x100x100mm granite sett is our recommendation.
Due to the nature of the product, natural split granite has working tolerances of up to 10mm.
Although the majority of our orders are for naturally split granite, we can also supply setts and cobbles with one or more faces with a finish. Applying a finish to the top face of a sett or cobble will greatly reduce the surface variation on that face, making it more applicable for projects with a lot of pedestrian usage or to ease wheel access.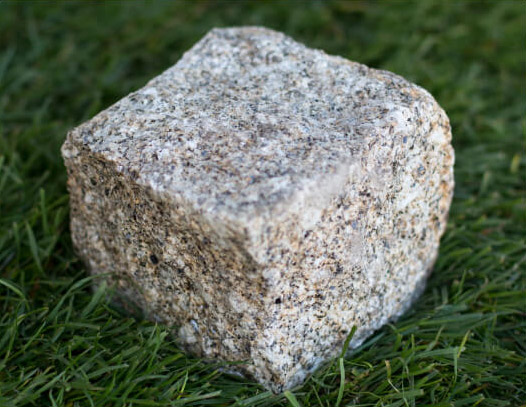 There are three different options when applying finishes to granite setts or cobbles:
Top face with a finish and rest natural split
Top face with a finish, bottom sawn, rest natural split
Top face with a finish, rest sawn
Having just the top face with a finish is the next most economical option after the naturally split whilst still providing the nice flat surface. Having the top face with a finish and the bottom sawn would be useful in applications where the pieces need to be laid flush to the base, ensuring all the stones are at the same height. Setts or cobbles with a finished top face, rest sawn would create the neatest overall look when installed with sawn sides as well as the bottom face.
Available finishes for the top face of the granite setts or cobbles include bush-hammered, sandblasted or just sawn. The bush-hammered or sandblasted finishes would be the best for external use, adding texture but still keeping the low variance surface.
FREE samples to help you choose the right granite setts, cobbles, tiles or kerbs for your project.
If you're unsure about the type of finish that will suit your home or commercial premises, then here at Granite Setts UK we can provide for you a free sample pack. Make your choice from the variety of colours and finishes we offer and we'll send you a small sample for FREE.